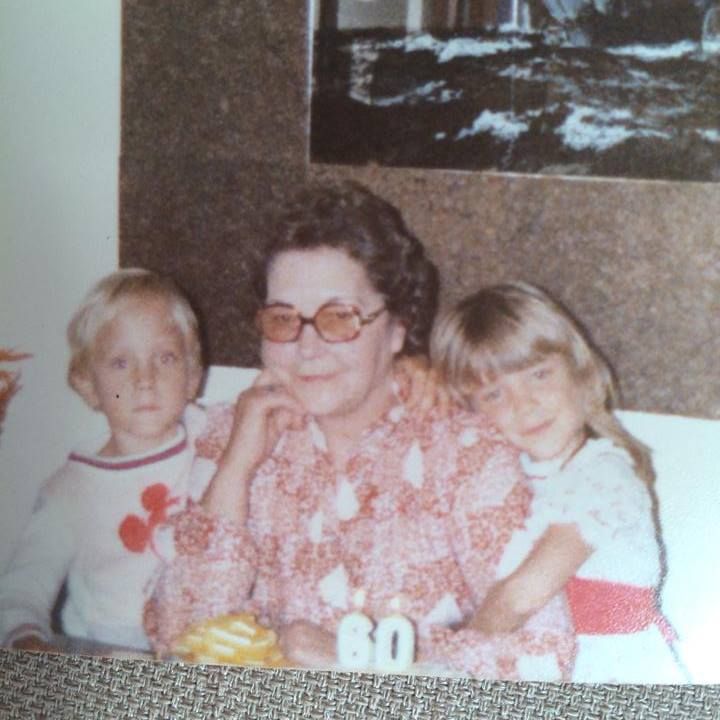 Image: A somewhat blurry, old color photograph of two young children with blond hair standing on either side of their brown-haired grandmother who is seated at a table with what is probably a birthday cake with a candle shaped as the number 60. The grandmother is wearing glasses and a pink shirt and she is smiling, and the kids are wearing white and red, with the girl smiling and the boy straight-faced.
NOTHING WRONG
by Josh Medsker
I sit, engrossed in my Legos. Elmer Fudd chases Bugs Bunny on the tiny, dial-front TV. It barely registers. I shake my head quickly from side to side, my perfectly white hair brushing against my forehead. I love the way it feels. I do this for a long time, sitting there, building a truck, shaking my head side to side to side to side, feeling the hair brush back and forth… My mother looks up from her book and sees me. She is finally exasperated and says STOP IT please stop! I don't understand why she says this, but I know that she is upset so I stop.
***
If I had been diagnosed with Autism Spectrum Disorder, then it would have been easier for me, I think. But I never have been. When I was an adult, I asked my parents point-blank if they had me checked out by a doctor—and they said they did. There was nothing wrong with my brain. I was just an odd kid, born 3 months premature, with poor motor skills, a nasty stutter, and some serious communication blockage.
In second grade I wouldn't respond to anyone except in a Donald Duck voice (my wife tells me I am a great mimic and that I missed my calling. I have always known this, but it's still great to hear). The duck talk got me taken to the counselor's office with my parents… and I spent a lot of time with my computer, or in my own head, daydreaming… I think the head shaking was the final straw for my mother.
My biggest fear is being overwhelmed by stimuli. This has happened many times in my adult life—perhaps the most disastrously during my student teaching. When this happens, I shut down, can't function, have to get out to a calm place (and I often repeat a behavior to calm myself). I suppose that I have come this far as a writer, professor, husband, son, and friend—without having a clear diagnosis—but it still frustrates me sometimes when I recognize myself in people with Asperger's or other ASD disorders. Sometimes that makes me feel like I'm out here on my own—depressed, anxious, feeling chaotic, medicated but still deeply unsettled…
In moods like that, I ask myself—am I the sum total of my mental quirks and disorders? Doubtful. But I'm sure they have added to my flavor (so to speak). So where does that leave me?
Back where we started? Maybe a little further.
Josh Medsker writes: Writing this piece was my first step towards self-acknowledgement. Although, as I say, I have not received an official Asperger's diagnosis from a doctor. I am not convinced that this matters. My experiences are just as real, and I will continue to try to understand them, using the method I favor—writing.
Writing this memoir was also difficult for me, because I have an aversion to being labeled or pinned down. In the end, though, I realized that this was just hubris, and that the best way to honor myself (and others with similar difficulties in life) was to tell my story as plainly and honestly as I could.
***
Josh Medsker is a New Jersey writer, originally from Alaska. His work has been featured in a variety of publications. Since 2001, he has published the literary magazine, Twenty-Four Hours (www.twentyfourhoursonline.org). For a full biography, please visit the TFH website. Thank you!